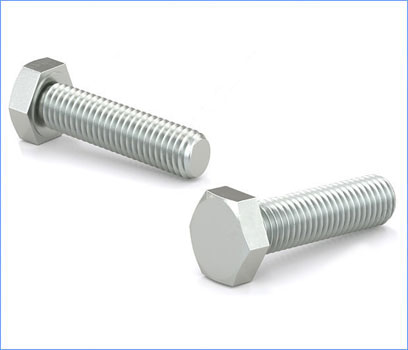 Introduction
DIN - 931, 933, 558, 7990
IS - 1363 - 1992 / ISO - 4017, 4014
Hex bolts can be used for many different applications that include fastening wood, steel, and other construction materials for projects such as docks, bridges, highway structures and buildings. Hex bolts with forged heads are also commonly used as headed anchor bolts.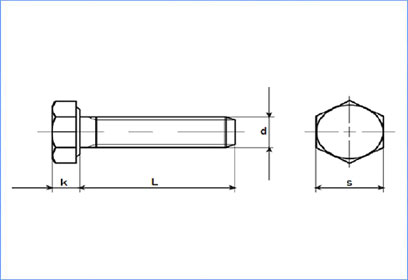 Hex bolts (six sided heads) are the industry standard for fasteners with forged heads.
Steel Grades: 4.6, 8.8, 10.9, 12.9
Finish: Self, Black, Bright Zinc, Hot Dip Galvanized (ROHS)
Also Available in Din - 937, Din - 6914, ISO - 1364, ISO - 4014.
Dimensions
Nom. Dia. (d)
M 6
M 8
M 10
M 12
M 14
M 16
(M 18)
M 20
Thread Pitch
1
1.25
1.5
1.75
2
2
2.5
2.5
K
Nominal
4
5.3
6.4
7.5
8.8
10
11.5
12.5
1/6
Min.
3.85
5.15
6.22
7.32
8.62
9.82
11.28
12.28
Max.
4.15
5.45
6.56
7.68
8.98
10.18
11.72
12.72
s
Max.
10
13
17
19
22
24
27
30
Min.
9.78
12.73
16.73
18.67
21.67
23.67
26.67
29.67
L
WEIGHT IN KG/1000 PCS
Nom. Dia. (d)
M 6
M 8
M 10
M 12
M 14
M 16
(M 18)
M 20
10
4.08
9.10
16.20
23.30
38.00
12
4.42
9.80
17.20
25.00
40.00
52.90
14
4.76
10.50
18.20
26.40
42.00
55.60
16
5.11
11.10
19.20
27.70
44.00
58.30
82.00
105.0
18
5.45
11.70
20.20
29.10
46.00
60.90
84.90
110.0
20
5.80
12.30
21.20
31.00
48.00
63.50
87.20
114.0
22
6.15
12.90
22.20
33.00
50.00
66.20
92.20
119.0
25
6.65
13.90
23.70
34.10
53.00
70.20
95.80
124.0
28
7.15
14.90
25.20
36.20
55.90
74.20
100.00
129.0
30
7.51
15.50
26.20
37.70
57.90
76.90
104.00
134.0
35
8.37
17.10
28.70
41.30
62.90
83.50
112.00
145.0
40
9.23
18.70
31.20
44.90
67.90
90.20
120.00
155.0
45
10.10
20.30
33.70
48.50
72.90
97.10
128.00
165.0
50
11.00
21.80
36.20
52.00
77.90
103.00
136.00
176.0
55
11.90
23.40
38.70
55.60
82.80
110.00
145.00
186.0
60
12.70
25.00
41.30
58.20
87.80
117.00
153.00
196.0
65
13.60
26.60
43.80
62.80
92.80
123.00
161.00
207.0
70
14.40
28.20
46.30
66.40
97.90
130.00
169.00
217.0
75
15.30
29.80
48.80
70.00
102.00
137.00
177.00
227.0
80
16.20
31.40
51.30
73.60
107.00
144.00
186.00
238.0
85
33.00
53.80
77.20
112.00
150.00
194.00
247.0
90
34.60
56.30
80.80
117.00
157.00
202.00
258.0
95
35.20
59.80
84.40
122.00
164.00
210.00
268.0
100
37.70
61.30
88.00
127.00
170.00
218.00
279.0
110
40.90
66.40
95.20
137.00
184.00
235.00
300.0
120
71.40
102.00
147.00
197.00
251.00
320.0
130
76.40
109.00
157.00
210.00
268.00
340.0
140
81.40
116.00
167.00
224.00
284.00
361.0
150
86.40
123.00
177.00
237.00
300.00
381.0
160
316.00
402.0
170
332.00
422.0
180
348.00
442.0
190
364.00
462.0
200
380.00
484.0
Nom. Dia. (d)
M22
M24
M27
M30
M33
M36
M39
M42
Thread Pitch
2.5
3
3
3.5
3.5
4
4
4.5
K
Nominal
14
15
17
18.7
21
22.5
25
26
Min.
13.78
14.78
16.65
18.28
20.58
22.08
24.58
25.58
Max.
14.22
15.22
17.35
19.12
21.42
22.92
25.43
26.42
S
Max.
32
36
41
46
50
55
60
65
Min.
31.61
35.38
40
45
49
53.8
58.8
63.1
L
WEIGHT IN KG/1000 PCS
Nom. Dia. (d)
M22
M24
M27
M30
M33
M36
M39
M42
25
155.0
199.0
280.0
28
161.0
200.0
292.0
30
168.0
214.0
310.0
35
181.0
229.0
319.0
424.0
543.0
670.0
869.0
40
193.0
244.0
338.0
448.0
572.0
714.0
910.0
1090.0
45
206.0
259.0
358.0
472.0
601.0
748.0
951.0
1130.0
50
219.0
274.0
377.0
496.0
630.0
783.0
992.0
1180.0
55
232.0
289.0
397.0
519.0
659.0
817.0
1030.0
1230.0
60
244.0
304.0
416.0
543.0
688.0
851.0
1070.0
1270.0
65
257.0
319.0
435.0
566.0
717.0
886.0
1110.0
1310.0
70
269.0
334.0
454.0
590.0
746.0
910.0
1160.0
1370.0
75
282.0
348.0
473.0
614.0
775.0
950.0
1200.0
1410.0
80
295.0
363.0
492.0
637.0
806.0
990.0
1240.0
1460.0
85
308.0
378.0
512.0
661.0
837.0
1020.0
1280.0
1500.0
90
321.0
393.0
531.0
685.0
866.0
1060.0
1320.0
1550.0
95
333.0
408.0
550.0
708.0
891.0
1100.0
1360.0
1600.0
100
346.0
423.0
569.0
732.0
920.0
1140.0
1400.0
1650.0
110
371.0
453.0
608.0
779.0
978.0
1200.0
1480.0
1740.0
120
397.0
483.0
647.0
827.0
1040.0
1260.0
1560.0
1840.0
130
421.0
513.0
685.0
874.0
1090.0
1330.0
1650.0
1930.0
140
448.0
543.0
724.0
921.0
1150.0
1400.0
1730.0
2020.0
150
473.0
572.0
762.0
969.0
1210.0
1470.0
1810.0
2120.0
160
498.0
602.0
801.0
1010.0
1270.0
1540.0
1890.0
2210.0
170
523.0
632.0
839.0
1060.0
1330.0
1610.0
1970.0
2300.0
180
548.0
662.0
875.0
1110.0
1390.0
1680.0
2050.0
2400.0
190
573.0
692.0
911.0
1160.0
1440.0
1740.0
2140.0
2500.0
200
598.0
722.0
947.0
1210.0
1500.0
1810.0
2220.0
2590.0
Request Quote